Stummfilm um Mitternacht, Null Uhr Null Euro: Der Mann mit der Kamera, UdSSR, 1929, R: Dsiga Wertow, mit Mikhail Kaufman, 66 Min, OmeU, Paolo Spaccamonti und Stefano Pilia ( Electric Guitars + Effects), Eintritt frei
Stefano Pilia & Paolo Spaccamonti - Der Mann mit der Kamera. Ein Live-Soundtrack für das sowjetische Meisterwerk von 1929 unter der Regie von Dziga Vertov
Ein Mann durchquert mit einer Filmkamera eine russische Großstadt. Dabei hält er das alltägliche Geschehen, das Leben und die Menschen fest. Er zeigt, was die Bewohner tun, sei es Arbeit, Sport oder andere Dinge. Daraus ergibt sich ein wundervoll poetisches Zeitdokument, das den russischen Alltag im Angesicht des politischen Umbruchs auf besondere Weise widerspiegelt.
ENG
Stefano Pilia & Paolo Spaccamonti – Man with a Movie Camera. A live soundtrack for the 1929's soviet masterpiece directed by Dziga Vertov
The soviet director Dziga Vertov's Man with a Movie Camera is the monument of russian constructivist cinema, a swirling mosaic about the man-machine utopy.
Despite its undisputed reputation, this silent cinema classic has never been shown with the music that Vertov himself had imagined for the movie and that was performed only during its first screening.
Stefano Pilia e Paolo Spaccamonti, after their experience with C.T:
Dreyer's Once upon a time and more recently with Erich Von Stroheim's masterwork Greed (both produced by Torino's Museo Nazionale del Cinema) team up again on stage, only this time as a duo, in order to give voice and sound to one of the last expressions of soviet cinema's avant-garde.
STEFANO PILIA: electric guitar, live electronics
PAOLO SPACCAMONTI: electric guitar
Event curated by Mara Martinoli
Trailer: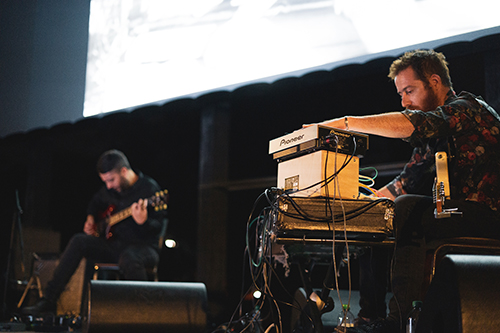 Stefano Pilia is a guitar player and composer born in Genoa and based in Bologna. His work has become progressively concerned with researching the sculptural properties of sound as well as sound's relationship with space, memory and the suspension of time. Pilia explores these points of focus through instrumental practice and investigations into the recording and production process.
He is one of the founding members (alongside Valerio Tricoli and Claudio Rocchetti) of the seminal group 3/4HadBeenEliminated, a project that synthesises improvisational, electro-acoustical and avant-rock sensibilities.
Pilia predominantly plays as a soloist though collaborates extensively. Though his multifaceted practice has also led to an active involvement in a host of other wide-ranging projects.
Since 2010 Pilia has been a member of psychedelic quartet In Zaire and has been a focal contributor to the BGP trio, alongside David Grubbs and Andrea Belfi. Additionally, since 2009, Pilia has been a member of il Sogno del Marinaio, a trio made up of legendary Minutemen bassist Mike Watt (Minutemen) and the prolific drummer Paolo Mongardi. As well as these myriad projects, Pilia is lead guitarist for celebrated Malian singer Rokia Traorè (since 2012) and for the longstanding cult Italian band Afterhours (since 2015).
In an impressive range of work and different contexts Pilia has collaborated with several artists and musicians such as Katia and Marielle Labeque, David Tibet, Zu, Oren Ambarchi, John Parish, Angela Bullock, Oliver Mann, Gianluigi Toccafondo, John Duncan, Nico Vascellari, WuMing, Phill Niblock, Z'ev, Alessandra Novaga, Manuel Mota, Enrico Malatesta, David Maranha & Dean Roberts. His discography currently stands at over forty recordings and his work has been released on a number of well established record labels including House of Mithology, Hapna, Die Schachtel, Soleilmoon, Bluechopsticks/Drag City, Nashazphone, Karlrecords, Clenchedwrench, Nonesuch, Allquestions, Presto?!, 8mm, Soave, Sedimental, Time-lag, LVD, Fringes, Bowindo, Sound of Cobra, Von Archives & Musica Moderna.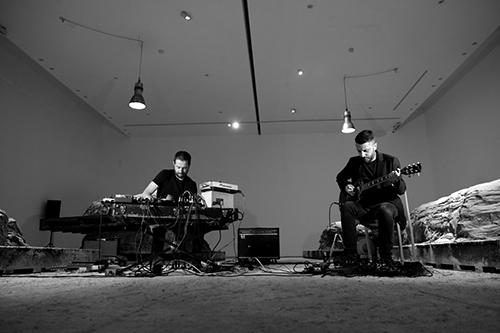 Paolo Spaccamonti is a Turin-based guitarist and composer. His discography is already extremely rich, made up by solo albums (the most recent is 2019's Volume quattro) and collaborative works with some of the best artists around, both italian and international: Jochen Arbeit (Einsturzende Neubaten, Stefano Pilia, Roberto "Tax" Farano (Negazione).
All this while also providing scores to readings, television shows (Rai1's I mille giorni di mafia capitale with Riccardo Sinigallia), theatre plays (TPE, Stabile) and movies (I cormorani with Ramon Moro, Lo Spiegato again with Riccardo Sinigallia) and live soundtracks to silent films produced by the Museo Nazionale del Cinema (Vampyr and Greed).
He is also constantly on tour, both by himself and with fellow musicians like Ben Chasny (Six Organs Of Admittance), Jim White (Dirty Three), Julia Kent, Damo Suzuki (Can), Emidio Clementi (Massimo Volume), Enrico Gabrielli and artists and performers like Jacopo Benassi, Masbedo, Balletto Civile, Donato Sansone, Valter Malosti (ERT) and the sound designer Gup Alcaro.
Recently in 2021 he has composed the score for the play Le Sedie by Eugène Ionesco (directed by Valerio Binasco and produced by Turin's Teatro Stabile) and The Nest, directed by Dellavalle/Petris and produced by TPE.