[Null Uhr – Null Euro] [Novij Vavilon] SU 1929, R: Grigoriy Kozintsev, Leonid Trauberg mit David Gutman, Yelena Kuzmina, Andrei Kostrichkin, 90 Min (20p/s), OmeU, Gekürzte Fassung; Vorfilm: Face Jam, 2018, R: Majse Vilstrup, 15 Min – Anna Vavilkina live an der Kinoorgel, Eintritt frei., Live an der Orgel Anna Vavilkina, Eintritt gratis!
Die Liebe der jungen Pariser Kaufhausangestellten zu einem Soldaten vor dem Hintergrund des Pariser Kommune-Aufstands im Jahr 1871. Louise unterstützt die revolutionären Ziele der Kommune, die Soldat Jean zu bekämpfen hat. Gibt es eine Chance für die beiden? Wir zeigen die restaurierte Fassung des Films mit der Originalmusik von Dmitri Schostakowitsch.
Vorfilm:
Face Jam
2018, R: Majse Vilstrup, 15 Min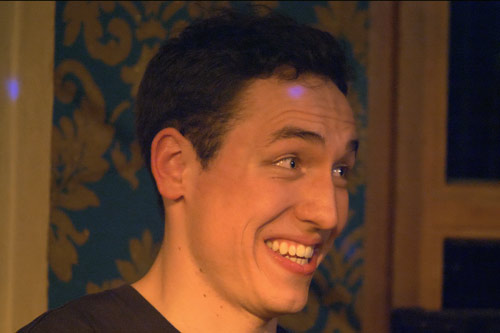 What does rhythmic absorption look like? The focus in the film is on the situations where the musicians through body language, eye contact and facial expressions communicate with their instrument and each other during a concert/jam. They nod their heads, shake their bodies, wink their eyes and squeeze their faces and it's hard to tell whether the movements are conscious or not.
"Face Jam" is the result of 8 jazz jams recorded at different jazz clubs in Berlin during the spring, 2018. Ex. Das Edelweiss, B-Flat and Barkett.
"Face Jam" was shown and exhibited at Gallery Delfi in Malmö, Sweden on November 2, 2018. Anna Vavilkina will improvise on the Babylon theater organ and with the sound create another, more witty narrative to the film.
Majse Vilstrup is a Copenhagen based artist working and combining visual media, film and photography. From 2015-2017 she studied at Akademie der Bildenden Künste in Vienna and is now studying at Malmö art academy.
Majse Vilstrup's work circles around an interest in the complexity of the subconscious and in how we as humans repeat and interact with each other – in private and in public. Our lifes are full of self-contradictions and the boundary between the natural and unnatural is something we constantly balance between to achieve "perfection".
By examining and registering phenomenons of familiarity, her visuals shares af notion of how it feels to live in the absurd, dense yet somehow generous world of today.